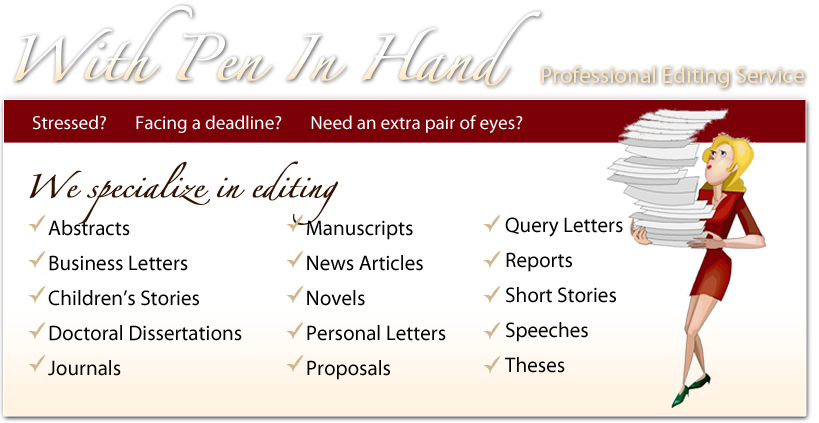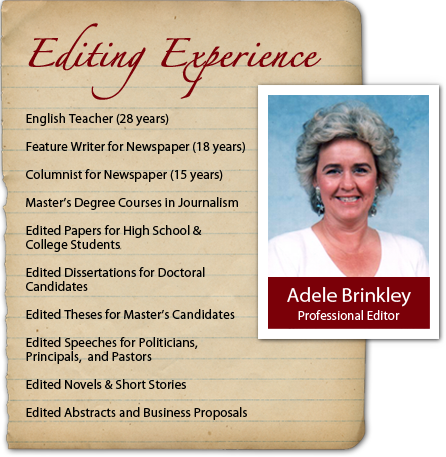 Email:
adele@withpeninhand.net
Phone: 770.876.2944
Adele Brinkley was line editor on my debut book, Butterfly Wishes. I especially loved Adele's attention to detail and connection with my characters. I discovered that editing was a passion with Adele, and it showed.
Adele Brinkley understands the editor/writer relationship. She frames all her remarks in a positive way without stepping on the writer's ego. She edits with personality and skill. The thing I like most about her work is our communication. She is always just an email away and I never hesitate to call on her if I'm stuck over a tricky grammar issue. Her response is timely, courteous, and always correct. I highly recommend Adele Brinkley for anyone looking to make their manuscript shine.
I wish to thank Adele Brinkley who has been exceptional in her guidance and suggestions as I wrote under the demands of time schedules and unforeseen events that arise in our everyday lives.
William James would like to acknowledge the editing talents of Adele Brinkley. Her unique abilities have made this adventure possible.
To my dear editor, Adele Brinkley, for her untiring efforts to make a good story even better.
To my editor, Adele Brinkley. You are wonderful!
I want to thank Adele Brinkley for her consummate editorial skills.
Thank you Adele Brinkley for copyediting this book and for your contribution to my life journey.
Thanks to my expert editor, Adele Brinkley, who shared many of my memories.
I am grateful for the fun, friendship, and support provided by my editor Adele Brinkley.
Adele Brinkley, With Pen In Hand Editing Service, was there to fix lingering errors.
Adele, I'm still amazed how you can take a two dimensional, black and white sentence and by changing one word or correcting the tense you bring about a three dimensional color shot. What a gift!
Adele Brinkley edited my most recent book, and I was pleased with her professional yet personal editing. It was her encouraging words after reading the book that led me to publish it. The book has been well received and without her faith in me might still be sitting in a file cabinet somewhere.
Adele Brinkley is an editor for the millennium. Her intuitive comprehension of the work at hand allows her to edit quickly with complete understanding of what the author has in mind. With her quick wit and laid back style of communication, Adele relieves any tension the author may have with her editorial comments. I have worked with Adele on three of my books. She and I have had a wonderful working relationship throughout the editing process and I look forward to working with her again with my next book - The Knowing.
I've worked as a freelance writer for nearly two years, and for those two years I have used Adele Brinkley's services exclusively. Her keen eye and dogged work ethic allow her to spot and correct the smallest errors. I highly recommend Adele to anyone in search of an editor or proofreader.